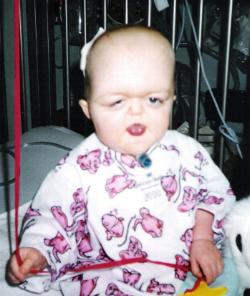 This Month's Featured Family!

January 2007

Alysia

Crouzon Syndrome

Hi, my name is Sandy and this is my daughter, Alysia.  She has Crouzon Syndrome.

In 1999, we went to the doctor right away when I knew I was pregnant.  We had an ultrasound done to see how far along I was and when the due date was.  We found out it was a girl!  I cried with happy tears after having two boys and a girl. One more little girl would fit in just fine.

I had a rough time with this pregnancy.  I had high blood pressure and wasn't gaining weight so I was put on complete bed rest.  That was the hardest part with a three-year -old at home.

That November doctors had me go in for stress tests twice a week. Plus, I had doctors appointments while still on bed-rest. Nov. 26, the day after Thanksgiving, I was supposed to go in for another stress test, but my blood pressure was too high. The doctors decided that it was time to deliver the baby by a c-section. When Alysia was born the doctors knew immediately that something was wrong with her, but didn't say anything to us. I knew by the way her eyes were bulged out that something was wrong.

Alysia was two weeks early and weighed 5 lbs., 14ozs. She was 18 inches long, our smallest baby. She looked like a doll. Doctors came in to talk to us, as Alysia was having a hard

time breathing, and they wanted to take her to Grand Rapids Spectrum Hospital to the NICU. I had to stay in Cadillac. The nurses were so kind; they had taken pictures of Alysia before she left and gave them to me. When that Monday came on 11-29-99, Alysia was being released. My heart melted as I sat there, held her and fed her for the first time. She was my little sweet pea. So small, she looked like a doll. The doctor came in to tell us that she had Crouzon Syndrome, and she would be a normal little girl.

Three days later we had to take her back in to the ER. She couldn't breath. The doctor on call told us to feed her, and that she was just hungry. We told him about her condition, but he did not seem to want to listen. Two days later, we took her to see her pediatric doctor, who sent her to Grand Rapids right away. I was torn apart, but knew it would be better for her. The next day they put stents in her nose to open up the airway. She was in there for a full month, spending her first Christmas in the hospital. My husband and I spent it with her too, but our other three children had to stay with relatives. That was the worst Christmas we ever had; everyone was apart.

She spent 2 weeks in PICU with a tube in her nose to help her breath and to clear up her RSV, but nothing seemed to work. By now Alysia was three months old, and still she was fighting to breath.

Finally, although I was terrified of her having one, the doctors decided to insert a trach. After the surgery we walked into her room and saw her lying there, all peaceful and sleeping. At that moment, my heart knew she would be okay, and that we could handle the trach.

Here is a little advice for parents whose little ones have Crouzon Syndrome: You're not alone! There are many other parents out there whose little ones are going through the same thing. We found that out first-hand. You know they are all fighters and they have more will power then you or I do. Alysia was our, I should say, 'IS' a fighter all the way, and her Dad and I are very proud of her.

Bob and Sandy Woodworth

Parents of Alysia

A Program of AboutFace USA

Feature of the Month

Stories of Craniofacial Care and Inspiration

© held by the individual authors. All rights reserved.

All stories and photographs reprinted by permission of the authors.

© cleftAdvocate

All Rights Reserved

We subscribe to the
HONcode
principles of The Health On Net Foundation
This cleftAdvocate page was last updated March 25, 2014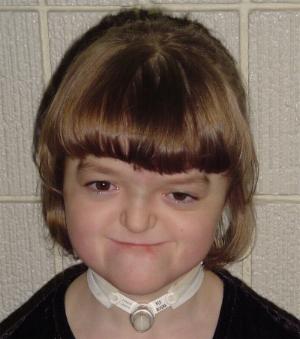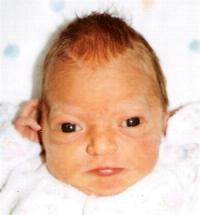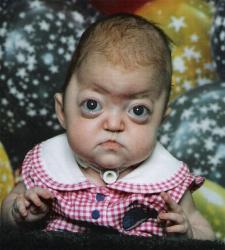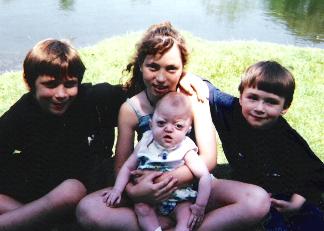 She was home by New Year's Eve after they had taken out the stents. But by February 2000, Alysia was back in the hospital. She had a minor cold, but just couldn't breathe. By the end of February she was back in again! This time she had RSV, which is worse then a cold. Plus, we almost lost her, as she stopped breathing.  Her pediatric doctor decided to take back down to Grand Rapids, as her condition was not improving. He had done everything he could.

One week later, after we were trained to care for her trach, she was coming home. Alysia would soon become a very happy baby; staying out of the hospitals and eating better. By Nov.3, she was going down for the first part of her reconstructive head surgery. It took the doctors twelve long hours, but we all pulled through. She looked good; not too swollen, and drinking a bottle. Alysia was home in four days. These little kids have so much will power to keep them going…

Everybody who knows her just loves her, and has to stop and to talk to her. She can sure steal a person's heart with her smiles and love. Alysia loves music and to dance, and is Daddy's little girl. She keeps Mom running, though. But that's okay; I love doing it for her.