One of This Month's Featured Families!

April 2004

Jamie

Born January 31, 2002

Bilateral Cleft Lip and Palate

North Carolina

We wanted to write about our story not only to share Jamie's story with you, but to also let you know about the two huge miracles God has performed in our lives.

When Jimmy and I got married in 1995, we knew we wanted to have children.  After about a year, we decided that we were ready to start our family.  After four years with no success, we decided to seek medical help.  I was prescribed Clomid, an infertility drug, by my gynecologist, but that didn't help either.  So, we went a step further and started going to a reproductive endocrinologist. I was diagnosed with a condition called PCOS, which has many symptoms such as weight gain, wacky hormones, and infertility.  I started taking shots and going through many medical procedures.

We found out we were pregnant for the first time the day before Thanksgiving of 2000.  We were over-joyed and felt like our prayers had been answered.  But, God was not ready for us to be parents yet.  On the Sunday after Thanksgiving, we lost the baby.  Then, three days after Christmas of the same year, we found out we were expecting again.  This time the doctors said everything looked great and we thought everything would be fine.  But again, it was not the right time.  We had another miscarriage.  We continued with the fertility treatments for several more months with no success.  Then, on May 31, 2001, we found out we were pregnant for the third time.

Everything went great!  Hearing our baby cry for the first time was one of the most wonderful moments in our lives.  Then, the doctor said, "Denika, he has a little abnormality of his nose and lip.  He has a cleft lip."  I realize the doctor was trying keep me calm, after all, I had been a basket case during the whole pregnancy.  But calling a complete bilateral cleft lip and palate a "little abnormality of the nose" is so funny to us now!

The doctors and nurses were not prepared for a birth of a baby with a cleft.  I was there for four days, and they never even attempted to get us any bottles.  We fed him with a medicine dropper.  He got so upset and frustrated with it because he was so hungry.  Another couple who had a child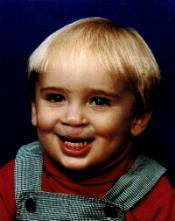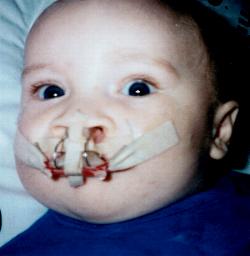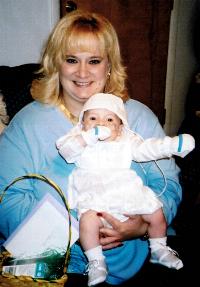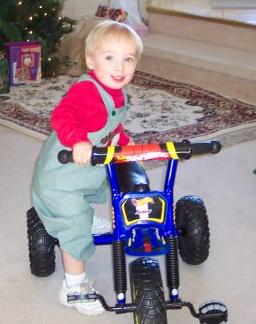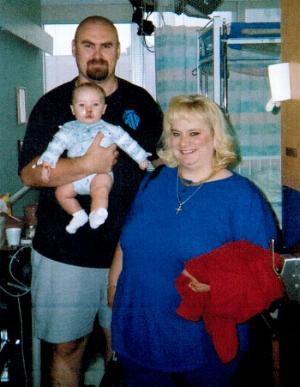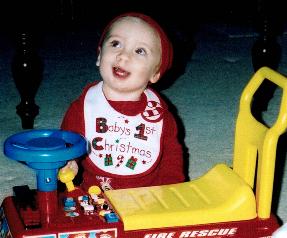 We had many more check-ups and ultrasounds during the pregnancy than normal because of the problems we had, but we had good reports each time.  We had no problems with the pregnancy at all.  Our doctor scheduled a c-section for January 31st because he thought the baby might be too big to have naturally.

with a cleft heard about us and came to the hospital to visit us.  Thank goodness!  They brought not only Habermans, but their experience.  That helped us so much!

During these first four days, we were overwhelmed with what the doctors told us.  We were told Jamie would have at least 6-12 surgeries, with three during his first year of life.  It scared me to death to think of him going through that many surgeries.  It also really concerned us that his nose would not be completely repaired until he was in high school.  My mother and I are both teachers, and we know how cruel kids can be.  We didn't want Jamie to go through that.  So, my mother became a woman on a mission!

When I was 14, another student pulled me down the bleachers at school.  It caused the bottom half of my leg to turn around completely backwards, and completely detached the two halves of my leg by tearing everything in my knee.  I had to go to Cincinnati, Ohio to have it repaired.

I had to live with my physical therapist, so he became a second Daddy to me.  He was also born with a cleft.  When Jamie was born, my mother called him.  It just so happened that his neighbor was a craniofacial surgeon that had just been to a conference under Dr. Lawrence Brecht.  We were told that he was part of a team from New York City that was repairing bilateral clefts in as few as two surgeries.  That seemed way too good to be true, so we had to find out for ourselves.

From the moment we met Dr. Court Cutting, we knew there was no

turning back.  When he told us Jamie's nose would be repaired during the first surgery, we knew that we were where we were meant to be.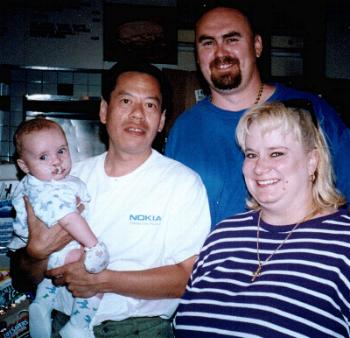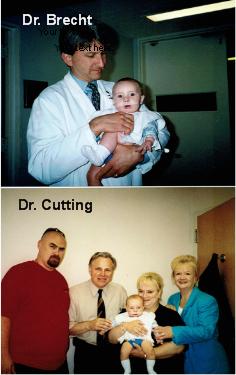 Jamie was fitted for his NAM right away.  A week later we were back up there and we learned all about the taping and maintenance of the NAM.  Jamie and his daddy flew to New York from North Carolina every Wednesday for 18 straight weeks to have the NAM adjusted.  In all, Jamie's been to New York 27 times!  He had his lip, nose, and gums repaired on June 13, 2002.  Just four short months after he was born.  He had his palate repaired and tubes put in on February 4, 2003.

Jamie is now a very wild and energetic boy!  He loves cars, trucks, trains, and any kind of machinery.  He is definitely all boy!  We thank God everyday for him and for  Dr. Cutting, Dr. Grayson, and Dr. Brecht.  We give him all the credit for Jamie and his repair.  We also are so thankful for Cleft Advocate.  Not just for the wealth of information we have gotten, but for the second family we have because of it!

Denika Menis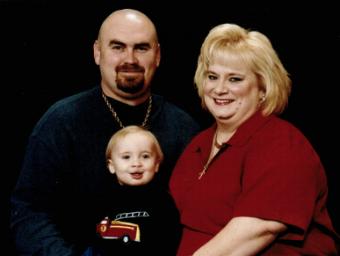 © cleftAdvocate

All Rights Reserved

We subscribe to the
HONcode
principles of The Health On Net Foundation
This cleftAdvocate page was last updated March 25, 2014
Feature of the Month

Stories of Craniofacial Care and Inspiration

© held by the individual authors. All rights reserved.

All stories and photographs reprinted by permission of the authors.