One Of This Month's Featured Families!

May 2003

Tani

Bilateral Cleft Lip and Palate

New York

Read more stories

of inspiration...

Tani was a surprise to the Trentlyon household.  Jason and I were recently engaged when I noticed a little "pooch" in my tummy.  On the day that I was taking (ironically enough) a certification course on personal training for pre and post natal, studying the signs and symptoms of early pregnancy, I realized that I might take myself on as my first pregnant client! 

Knowing that we did want children, Jason and I were very happy, and had a wonderful pregnancy.  On January 26, 2001 we got married during a very small ceremony, and were planning on holding the reception after the baby's birth.  After a wonderful honeymoon to Italy, we excitedly went to the "big" sonogram the next day, ready to count toes and fingers.  Needless to say, the day did not go quite as we hoped, and the news of Tani's cleft was not delivered well by the hospital, the technician or the doctor. We went home, feeling incredibly upset, wondering what a cleft looked like since we were advised against seeing photos, among other things.  We did eventually switch hospitals and chose a wonderful midwife to assist in the birth.

After internet searches and many phone calls, we ended up in the office of Dr. Court Cutting at NYU Medical Center.  Just a quick walk across town, and Dr. Cutting alleviated our fears of what baby Tani, who was already named and well-loved, would go through.  Too many photos to look at, too many parents to speak to with nothing but rave reviews, we knew after all of our research that Dr. Cutting and his team, with their innovative techniques using the nasal alveolar molding (NAM) device, was definitely the way to go for us.  It would be hard work but well worth the effort.

By the time Miss Tani was born on August 1, 2001, our midwife, doula, friends and family knew what to expect.  Special bottles were on hand, and many specialists were in the room as little Tani made her special appearance.  Pitch black hair and inquisitive eyes, everybody smiled at the 7-½ lb. pink baby girl, who turned her head immediately toward Mommy and Daddy's voices.  Everything would be ok.  No problems, a 9 on the Apgar test, and only a cleft to deal with.

The next week, the three of us walked across town to go visit Dr. Cutting and his crew.  A mold was taken of Tani's mouth, and the staff welcomed her into the world with hugs and smiles.  A week after that, Tani received her NAM.  Taping took a little bit of practice but before long, everybody loved that device, for what it was doing to Tani's nose, gums, and her eating!  In fact, it was a faux pacifier for Tani, she absolutely loved it!

During the course of four months the device was adjusted by Dr. Brecht, who is a wonderful guy.  He and Tani became good buddies quickly, and of course the doctors and nurses and staff all loved our wacky family.  For those who know us, we are NOT your average family!

Then, September 11 happened in front of our eyes.  From our living room window, we all watched the towers burn, the second plane hit, and finally, devastation.  It was a moment when we wondered what the future would hold for Tani, and for our family.

December 11, exactly three months after the horrible event, came the blessed first surgery. Six hours of waiting and worrying turned into a moment of tears and smiles.  Tani's lip, gum and nose looked amazing!!!  We can honestly say that we loved her new face from the minute we saw it.  We loved the old look too, but we were ready for the change.  She looked gorgeous!

Three weeks of recovery and Christmas whizzed by us.  Tani was wonderful, ate like a champ, barely complained.  The perfect patient!

It seemed like a wonderful eternity, but then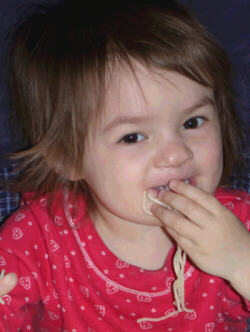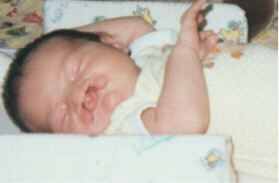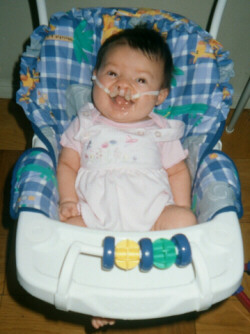 came palate surgery.  It was scheduled for the first week in August, but Tani decided to start saying "bye bye" which came out "mye mye".  Dr. Cutting immediately changed the date to give her speech a better chance at success.

Palate surgery was on July 22.  This one only took three hours, but Tani had a rough recovery.  But, the next three weeks (and Tani's first birthday) came and went and Tani was fine!  In fact, after her post-op check up, she could drink out of a regular bottle and soon a cup!  Unfortunately we were not able to have a birthday party except for immediate family, but we'll make that up this year!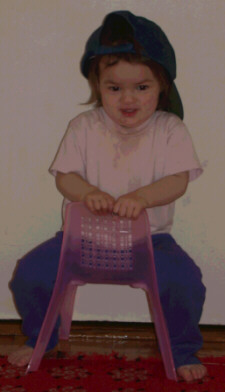 Everything has been wonderful.  Tani has been going to speech therapy through Early Intervention, and is a little behind but making progress.  She is a tall slim gal for her age, loves to run, jump, sing, dance, and get goofy with Mom and Dad.    And her repair is actually looking better with time.  Somehow her face is growing into all of that surgery.  It's unbelievable!

John Casey, a freelance writer here in NYC who has become a very dear friend, worked with me to write an article.  It was a long shot, but hey, what did we have to lose?  Well, we had a lot to gain, because a wonderful article was published in Parade Magazine, featuring Dr. Cutting and of course, little Tani Trentlyon. I hope that the article has touched many lives and inspired parents to do everything they can to help their children, with special needs or not, and that it gives hope to new and expecting parents who are anticipating cleft surgeries in their future.

Tani is such a source of inspiration and hope for so many people.  She is a very strong little girl who is rarely without a smile.  As far as guilt, or blame, we just decided it wasn't worth it.  We don't mourn having a daughter with a cleft, we don't think we could have done something different, it was just a random act of kindness.  You see, without Tani in our lives,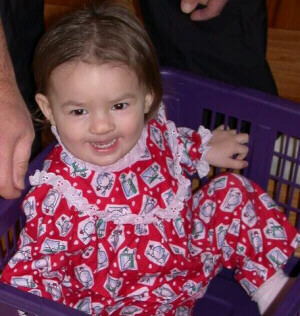 we would not be the same people that we are at this very moment, we would not have our many friends from Cleft Advocate, and the world would be missing a wonderful child.  She is just such a ball of sunshine, and you can't help but smile with her.

Our next cleft team visit will be around her second birthday, and we'll see what might be up ahead, but for right now we're concentrating on the present, which is life as a family full of love and hope, and of course, a little goofiness!  And we're not saying that it is easy, but it is worth every moment!

See our

and learn about

the NAM device!

Feature of the Month

Stories of Craniofacial Care and Inspiration

© held by the individual authors. All rights reserved.

All stories and photographs reprinted by permission of the authors.

© cleftAdvocate

All Rights Reserved

We subscribe to the
HONcode
principles of The Health On Net Foundation
This cleftAdvocate page was last updated March 25, 2014