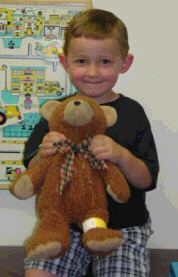 One Of This Month's Featured Families!

August 2002

Kyle

Cleft Soft Palate

Utah

who understood his special language. Kyle has been the same way, I help people to understand him when they don't know what he's saying. I never could have guessed the my dream to work with children who have special needs would come become reality though my brother and my own son. Kyle's speech has become much more clearer since his last surgery though and he doesn't need me to interpret nearly as much. I'm proud of how well he's doing but at the same time I'm sad that my baby is growing up, as every parent feels. We wish they would stay babies forever but are also proud of each step they take towards growing up. Cleft affected children are such special kids, I'm honored to call Kyle my son.

My name is Joni, I'm 23 years old and happily married to my husband Todd who's 28 years old. We tried for quite a while to start our family, we wanted a baby very badly and after four miscarriages we thought we may never have biological children. Then we became pregnant with Kyle. Due to my history with pregnancies the doctors watched me closely and I had many many ultrasounds each month to make sure the baby was growing and doing well. After learning we were having a boy we chose his name, Kyle Dean Nadauld. He was born three weeks early after the doctor tried to turn him because he was breech, but he wouldn't turn around so we had to have a

cesarean section. We were SO excited to have a living baby that his cleft was not a big deal to us. He had a cleft soft palate and we were told it would be fixed around 10 months old, which it was. At 24 months old he had tubes put in his ears to help with hearing, which is now "normal." After being in speech therapy for a year with little progress, his doctor decided he needed a secondary palate surgery called a sphincter pharyngoplasty. On July 15th 2002 we went to the hospital to have this completed. Kyle did VERY well, he is such a sweetheart!

We also "adopted" my stepbrother, Chris, who's 19 years old and has speech issues and mental delays. Kyle really likes his uncle Chris being here, they love playing in the yard together with Brittany following close behind. As a child I always told my mother I wanted to be a special education teacher, ever since my brother's first day of school in a special education school. Chris was so hard to understand as a child that my Mom would ask me what he was saying since I was the only one

Since we have been home his speech has been improving and soon he'll be starting speech therapy again to teach him the correct way to use his new muscles in his throat. Apart from his speech he's just like every other 4 year old boy, he loves boating at Bear Lake, camping at Capitol Reef, swimming anywhere and playing with his little sister Brittany, who's 2 years old and Kyle's devoted shadow. He also loves any activity with family.  Kyle is a very loving caring boy, he's very smart and loves going to preschool where his teacher, Tara, fell in love with him right away (as most people do)!

Read Joni's poem to her son...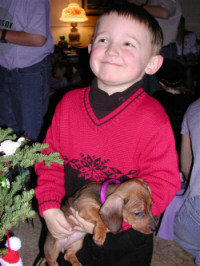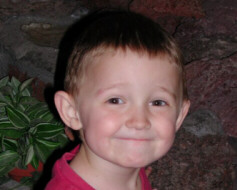 Feature of the Month

Stories of Craniofacial Care and Inspiration

© held by the individual authors. All rights reserved.

All stories and photographs reprinted by permission of the authors.

© cleftAdvocate

All Rights Reserved

We subscribe to the
HONcode
principles of The Health On Net Foundation
This cleftAdvocate page was last updated March 25, 2014